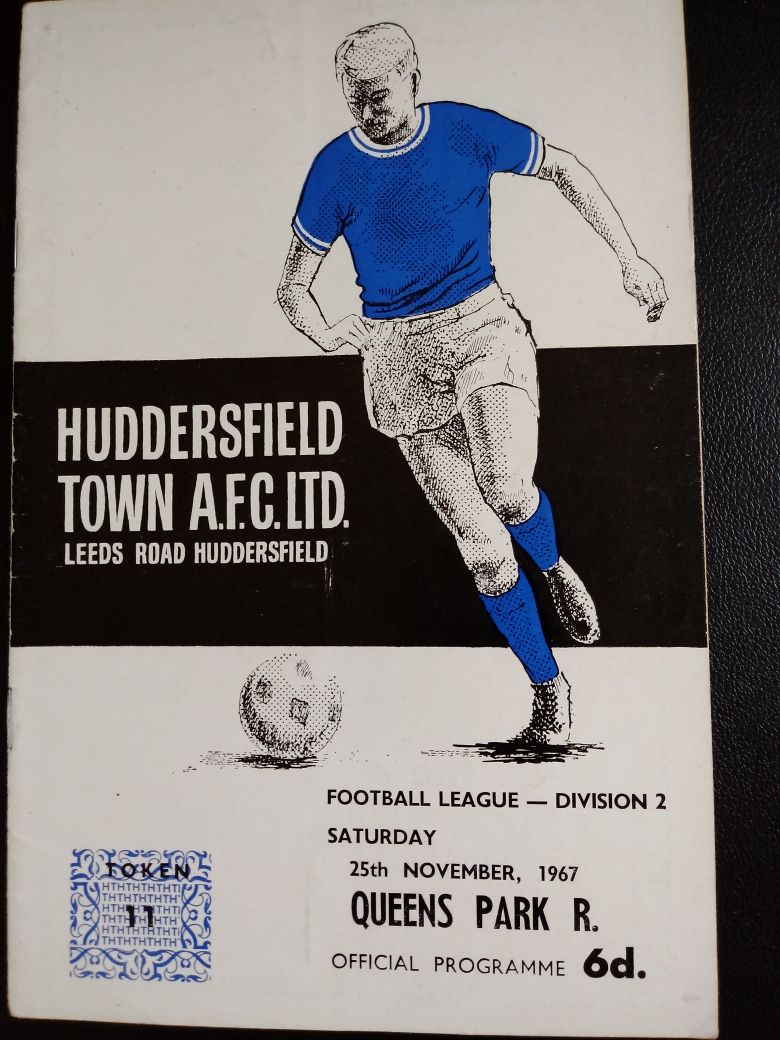 When we play Manchester City at the John Smith's Stadium in the Premier League in November this season, it will mark the 50th anniversary of my first ever Town match.
I was 7 years old and had just started playing football at school. It was also the year after England won the World Cup. Unfortunately I have no recollection whatsoever of this happening. What this 6 year old was up to in the summer of 66 I have no idea, it wasn't watching football.
Anyway, telling my dad about this football game we had been playing, he said he would take me to watch Huddersfield Town. As you can see from the picture, it was against QPR and I still have the programme. Not the actual bought on the day programme mind, it was bought much later for more than 6d at an old programmes stall.
I remember where we stood. It was in the corner section behind the floodlight pylon between the east terrace and the open end. Town won 1-0 with a goal from my new hero, Frank Worthington. I can also remember the smell coming from the gas works, particularly pungent in the 2nd half. And I can also remember what a bunch of moaning old tossers some Town fans are. Some things never change. John Oldfield the goalkeeper, despite the clean sheet, got some awful stick.

We went to a few more matches that season, parking up on Red Doles Lane, something I'd repeat later in life as Town moved to the new ground and I had a job in a factory on there. It was a couple of seasons later though when we really started to go to every home match and even a few away games. Trips to far off exotic places such as Bury, Blackpool and Carlisle.
After the game we would go home for tea and then around 7 o'clock get back in the car and go down to the newsagents opposite Millbridge Club to buy the Green Post, a hastily put together newspaper, printed on green paper, which had all the day's football results.
This was of course, the 2nd division championship winning season. The most memorable game for me was standing in the Paddock at the last match of the season, watching Town being given the guard of honour by the visiting Watford players and then giving them a sound 3-1 thrashing to be crowned as champions in style. I was right next to the pitch as Jimmy Nicholson and the boys came past on their lap of honour with the famous old trophy.





Unfortunately my dad's building company went bust soon after and we had to move to a hovel in Batley and he stopped taking me to as many matches. We did make it to the first 2 games in the First Division, a 3-0 win over Blackpool followed by a 3-1 win over Southampton to take us to the top of the league. But after that, not so many. I remember going to the 2-1 win over Arsenal that was the feature game on Match Of The Day. Also the FA Cup win over West Ham the season after. But as Town got relegated, my Town matches got less and less.

Living and going to school in Batley in those days was bloody awful for a Town fan. We were on our way down the leagues, but everybody at school supported the "Champions of Europe" and were a right set of piss taking bastards.
There was one other Town fan though, as I found out. Big Al. He was a couple of years older than me, but lived near us. We got talking once after he'd beaten me up for tying the laces at the back of his parka to the seat on the bus home. Another lad told him to stop hitting me as I was one of them Huddersfield fans same as him. We became best buds and travelled to matches on the 201 bus together for a few years.
Another of our travelling companions on that bus ride, it used to take well over an hour to get to Leeds Road, was Joe Heywood. He was an old bloke who lived further up the bus route and was always on the bus already when we got on. He'd fill us with tales of the old days. Things like going down to Charlton and leaving to catch the train before full time with Town 5-1 up, only to get home and see we lost 7-6.
We stood in the Cowshed, singing our heads off all game. Cowshed Boys we are here, whoa oh, whoa oh. Brilliant.




These were rotten times though. The football was garbage. We seemed to lose every week. And we kept getting relegated. Big Al had left school and got himself a job that involved working Saturdays, so I was on my own.
When I left school myself and got a job, all my spare money went on travelling to as many away games as I could. I joined the Supporters Club and went on their coach. These were the days when away travel was just 2 coaches, us and the Travel Club.
I went to even more exotic locations now. Exeter, Hartlepool, Aldershot, Darlington, Hereford. So far away from the places David Wagner's boys will be taking us this season. Dad had started coming back to the home games with me and by now we had moved to watch from the Centre Stand. It always stank of pipe tobacco and whenever I smelt that smell ever since, hardly at all nowadays, it took me back to those Leeds Road days.
Mick Buxton was now in charge and just like the start of the 70s, the start of the 80s saw us win another league championship. The 4th division. Doesn't sound much, but it was bloody great after the rubbish we'd been through and the football itself was a pleasure to watch up and down the country. By the time we got to the end of the season and winning promotion at Hereford, the coaches number had risen to about 6 or 7. We rocked the place.





Then I found beer! The next few seasons are a bit of a haze. I would often turn up at matches pissed. Looking back now, I was stupid, especially as these were great times to be a Town fan, but having very little recollection of it is a bit of a regret. We used to go on the coach from Millbridge Club and wherever we went, we would set off in time to get there for pub opening at 11:00. So setting off for places like Portsmouth at 5 in the morning.
I was at Wembley when Town got promoted again in 1983. Unfortunately Town weren't playing at Wembley, I was on a Rugby League Final weekend piss up as Town beat Newport to clinch promotion. I missed the famous Dave Cowling goal.
I didn't miss his other famous goal though earlier in the season when he put the ball in the bastard's net at Bellend Road as we beat the famous Leeds United for the first time in donkey's years. That was a fantastic night. I can remember it well as we didn't have much drinking time.





Around this time I met my beloved and we got married in 1986, missing a Town match for the wedding as Town lost at home to Middlesbrough. Town were playing crap again and I'd almost stopped going.
If it wasn't for our nephew Paul, who had like myself at his age, just got into football and I'd been talked into taking him to a match, I might've packed in all together. But now, me and the lad were as keen as ever and most importantly, I'd sworn off the booze. Shame really, because most of the football around this time was most forgettable.
I drove him all around the country to exotic places like Oxford, Bolton, Chester, Grimsby, Mansfield and now he's grown up, he drives us around the country to exotic places like Wembley.




At first, my beloved wife wasn't interested in football, but I once took her to a game, think it was a testimonial for Frank Worthington, and she was hooked. Can't keep her away now and she makes me drive her away for weekend matches in exotic places like Hibs, Bournemouth, Bristol City. This season we're hoping to get tickets for a Liverpool weekender. And after being one of what was around a hundred maximum away support back in the 4th division days, I shall be most annoyed if my 50 years of following Town doesn't get me tickets for Anfield.




Anyway, that's my story. Why don't you take a couple of hours out of your long, long wait for the season to start, to tell us your Town story?