Well who would have thunk it? Little old Huddersfield has managed to make it to the most expensive game in football. To say it was a nervy affair in order to get here is somewhat of an understatement. My poor little heart couldn't really take much more, so I don't know how some of you faired. I'm hoping that the 29th is less strenuous, although I will be able to manage provided we are on the right side of the result.
This isn't the first time little old Huddersfield have been to Wembley, although that time we were the bigger fish in the small pond. For those on here that need to have a bit of a memory rejig, it was a rather warm day and the match on the pitch was a little less hot, in fact it was rather more lukewarm. Neither Huddersfield or newly promoted Sheffield United created many chances, with shots on goal at a premium in the first 90 minutes. Extra time saw the game become a little more stretched, with the heat taking toll on tiring legs. A few more chances came about with Jordan Rhodes and Peter Clarke coming close from corners, whilst Uniteds Stephen Quinn teased the Town defence. Despite all that, the two sides couldn't be seperated, much like the two on Wednesday and the game went to the dreaded penalty shootout.
Town were the first up, yet again. However, the experienced penalty 'expert' Tommy Miller couldn't keep as calm as the ice cold Chris Lowe and saw his penalty saved. Alex Smithies, Ian Bennett's deputy denied United's Jamacian international Lee Williamson, whilst Towns next two experienced players, Alan Alan Lee and Damien Johnson also failed to convert their kicks, seeing town miss their first 3 kicks. United however, only converted one of their kicks, Neil Collins managed to beat Smithies, whilst Matt Lowton was denied.
Town would go on to score each of their remaining penalties, whilst Andy Taylor missed the crucial fifth penalty for United, despite being specifically brought on to take one during extra time. They too would go on to score their next penalties, all the way down to Steve Simonsen. Sorry to bring it back up Steve, but I can't help it, have you got that ball back yet?
The rest we know is history.
So where are the playoff winning players now?
Alex Smithies- The hometown hero is currently plying his trade in the old smog at QPR, with the keeper being crucial to keeping the side in the championship. He has been rewarded during the season with a new contract. His time at QPR hasn't been all plain sailing either as for the bulk of his first season, he had to warm the bench behind Rob Green, but has since made the place his own. He may well be around come the 29th.
Jack Hunt- Another hometown player and one that we saw not that long ago, Wednesday to be exact. The fullback left Town for the lure of the Premier League, moving south to Crystal Palace. It didn't go well for him as his time was curtailed by injury and saw him loaned out to Nottingham Forest and Wednesday, before eventually signing permanently for the Owls. He has been a bit of a wind up on twitter to Town fans and a bit of a menace on the field, he scored his penalty on Wednesday and has since wished Town all the best on twitter.
Sean Morrison- Another player that we met not that long ago. He is currently captain at Cardiff. When Town last won promotion he was on loan from none other that Reading. He featured a few times for the Royals in the campaigns after, but has settled in Wales.
Peter Clarke- Captain Clarke was the first Town player to score in that penalty shootout and was also awarded the man of the match award. He continued at Town for a few more years before moving back to Blackpool where he held legendary status. He has since moved on to Bury before playing last season at Oldham. Whether he continues into next season remains an unanswered question as he was on an initial one year deal. Clarke has often been seen (heard) commentating on Town fixtures when he has been available over the last season or so. It wouldn't be a surprise if he ended up back at Town in some capacity in the future.
Calum Woods- The versatile defender played the large part of the 2011-2012 season as a left back and that was the same in the final. He left Town after being released in 2014 to join current club Preston Both Ends, however, he saw this season nulled due to a serious injury.
Kallum Higginbotham- A rather misunderstood wideman, brought in as one of Lee Clark's final signings from Falkirk, he hardly featured for the side once he joined being sent to Championship side Barnsley by Grayson, but returned and played in the semi final and the final as he collected only four appearances for the club. He was loaned out to Carlisle and Motherwell, before joining Partick. He has since wound up at Dunfirmline. Maybe he had a poor attitude or maybe he was poorly treated. We'll never know.
Damien Johnson- The experienced Irishman was in his second loan spell at the club, with both being hindered due to injury. Once Town got promoted his stay was not extended and he joined Fleetwood. He has since retired and is a coach in Blackburns u23 setup.
Tommy Miller- Another experienced head that didnt really deliver much during his stay at the club. He left at the end of the season and had multiple clubs since including Towns retirement home Bury and Halifax. He has since retired from the game.
Danny Ward- The chubby winger with a hammer of a left foot stayed at Town for a number of seasons but never really fulfilled his potential. He was allowed to join Rotherham and has since booked his ideas and has lost a bit of weight and has performed rather well this term. He has been linked with moves to other championship sides including Town. Rotherham have exercised their option of a further year on his contract, but he is still expected to leave during the summer. A move back to Town could still be on the cards.
Jordan Rhodes- What ever happened to him? He scored in his fairwell game for Town, before leaving for Blackburn, with the aim of getting a shot at the premier league. He joined Middlesborough to help push them to the premier league but saw himself cast aside by Aitor Karanka, to the extent he joined Wednesday on loan. He will sign for £10 million in the summer, unless they have the option to pull out of that deal, otherwise it is quite a lot of money to be spending on one player in the championship...
Lee Novak- The energizer bunny played the in the first season back in the championship, but left to find more football, following Lee Clark to Birmingham. It didnt quite work out there for him and he was loaned out to Chesterfield, where he found his scoring boots. He joined Charlton in the summer but has struggled to make an impact this term.
Ont Bench.
Nick Colgan- Rarely featured for Town, acting more as an emergency backup. He is now Town goalkeeping coach.
Tom Clarke- Another versatile defender who has since left to find first team football. He joined Grayson at Preston and has since been named as captain. He picked up a serious injury playing against Town at the JSS last month.
Gary Roberts- A bit of a strange one. Was one of Stans better signings, in fact he was the only one. He left Town in the aim of finding something better and ended up at Portsmouth. He has been playing in League two for the last few years but won promotion this season.
Scott Arfield- Another strange one. When he was released by town, many expected him to drop down to league one. He however joined Burnley and has been central to them being promoted to the premier league in the last few seasons. He scored against Chelsea in one of Burnleys first games back in the prem and has been utilised in multiple positions. He has also earned himself a call up to the Canadian national side. Possibly the only town player to actually better himself since leaving.
Alan Alan Lee- Cult hero for probably the wrong reasons, mainly due to him being rather useless on the pitch. When he left Town he rejoined Ipswich in some capacity and has since started doing some work with the youth squads at the Tractor Boys.
Manager at the time Simon Grayson got town off to a rather decent start, with the side over achieving for a period. However, it soon came crashing back down and he was replaced by Mark Robins. Grayson was appointed manager of Preston and managed to get another promotion to his CV. His side has been rather competitive in the championship and were in the race for the playoffs until the last few weeks of the season.
Moving back to this season, both sides were largely unfavoured, with two unnamed pundits predicting Town to be relegated this season, with one saying that he 'hadn't seen enough progress from town', obviously Town had finished the 2015-16 season poorly and ended up in a disappointing 19th place, whilst Reading also were disappointing, they finished 17th a full point ahead of Town. Oh how times change, or maybe its how blind some of these pundits can be.
Town made numerous signings during the summer, with David Wagner raiding the German market to bring in Chris Lowe to take the full back berth, record signing Chris Schindler came in to replace the departing Joel Lynch, Michael Hefele came in to add a bit more strength to the Town backline and Elias Kachunga came in as a new striker but soon settled on the right forming a formidible partnership with Tommy Smith.
From the domestic scene, Aaron Mooy and Danny Ward joined on loan from Man City and Liverpool respectively, whilst Joel Coleman came from Oldham as back up to Ward. Elsewhere Jack Payne signed from Southend, whilst Kasey Palmer joined on loan from Chelsea.
The side went on a much publicised trip to Sweden, Wagner will have you believe it was for team building purposes and that it was a survival camp. The truth is, they went to Ikea directly to buy furniture for the coaches and the new signings. The images were photoshopped to make people to believe that it was a camp, it was really the front room and they were putting everything together.
The side also went on a footballing camp to Austria where they played the likes of Werder Bremen or something as they prepared for the season ahead.
Meanwhile, down at Reading, there was changes afoot with former Manchester United, Milan and Ajax defender was appointed manager, leaving his role as Jong Ajax assistant manager and replacing Brian Mcdermott who was relieved of his duties in May.
They too had a rather busy transfer window, with numerous players being released, including Anton Ferdinand and Hal Robson Kanu. On the way in came Danzell Gravenberch and Joey Van Den Berg. John Swift joined from Chelsea, whilst Joseph Mendes signed from Le Harve. Tyler Blackett and Liam Moore also joined the Royals, but former Town midfielder Oliver Norwood departed to join Brighton.
Ahead of the season not many would have though that Town would be where they are and at the same time not many would have thought that about Reading either. Fans of course would have been dreaming about the possibility, especially after Leicesters title winning season, but they wouldn't have been expecting it either. After a full preseason, both sides got off to winning starts. But lets have a better look at the two seasons so far.
AUGUST
Readings August was somewhat a mixed bag in terms of results. In their first game, Jaap Stam's side gave Grayson's PNE side a footballing lesson, with Grayson admitting that his side was some way of the pace set by the Royals, John Swift scoring the only goal. They continued the lessons in the first round of the League Cup as they beat Plymouth 2-0.  The lessons took a bit of a back seat, as they lost to Wolves thanks to two quick goals either side of half time. Whilst they dominated possession, they couldn't turn it into goals. It went from bad to worse as they suffered a second consecutive defeat at the hands of Newcastle, a second half blitz saw the Magpies run out 4-1 winners. They managed to steady the ship in the back end of August with a draw at home to Brighton, a penalty shootout win against MK Dons and a 1-0 win over stuttering Cardiff.
Huddersfield on the other hand had a surprising start to the campaign. The season started  with town welcoming Brentford to the JSS, with Town keen to avenge themselves from the hammering at the end of the previous season. Kachunga showed signs of what was to come when he headed home a Tommy Smith cross. Nico Yennaris restored parity before Kasey Palmer scored with what was his second touch in professional football. There was a bit of a wake up call the very next game as Shrewsbury upset Town in the league cup, but Town were back at it not long later as they travelled up to Newcastle and got what was a shock result. Goals from Nahki Wells and Jack Payne gave town the three points. Town had a good end to August with Hefs arse saving the game away at Aston Vanilla, whilst Town recorded wins at home to both Wolves and Barnsley, a Hogg goal completing a successful month.
At the end of August Town sat pretty at the top of the table, whilst Reading sat 15th. It couldn't continue, could it?
September
September was a better month for Reading, starting with a 2-1 win at home to Ipswich. It is fair to say that this was a game settled from the penalty spot. Gareth McCleary gave side the lead from the spot just before the half time interval. Brett Pitman equalized for Ipswich before Danny Williams settled matters in the 95th minute. An uninspiring draw against Birmingham followed, before a 10 man Reading nudged their way past Barnsley, McCleary gave the side the lead before getting himself sent off in the first half, Barnsley got a late goal back, but couldn't make the numerical advantage count. They progressed in the league cup, despite, again, having only 10 men. Former Manchester United seeing red but they managed to hold on once again. They finished the month off with another 4-1 defeat, this time at the hands of Brentford.
Huddersfields september saw 3 wins and 2 defeats, the wins coming away at Leeds, thanks to an Aaron Mooy goal. A 2-1 win at home to QPR, Kasey Palmer and Kachunga continuing their scoring start, whilst Kachunga was on hand again to score against Rotherham in another 2-1 win, Wells getting towns other goal, with Danny Ward mk1 scoring in reply. The defeats both came away from home at two better footballing sides. Firstly, a 1-0 defeat at Brighton. Town went with a bit too much respect for the hosts and allowed them to control the game a bit too much, despite having more of the ball. All was going well until a late goal from Anthony Knockaert got the Seagulls the 3 points. It was a bit of a daisycutter that somehow managed to squirm under Ward, a bit of a gut punch especially after going all that way!(trust me I know, happy birthday me...)The second defeat came at the hands to fellow finalists Reading. Town saw Rajiv Van La Parra sent off midway through the first half, with Roy Beerens getting the decisive goal just before half time. Despite some late pressure, Town were unable to make a break through.
Come the end of September, Town were still sat top, whereas Reading had risen to 9th.
October
October was good, if not spectacular for Reading, with a couple of draws coming at the hands of QPR and Derby, a late goal being needed to deny a Chris Powell's Derby the three points. A late Jordan Ayew penalty consigned Reading to a 2-1 defeat at the hands of Villa, whilst a cup upset wasn't to be away at an Alex Oxlade-Chamberlain inspired Arsenal. The Royals managed to record two wins in October, the first coming away at struggling Rotherham thanks to a late Paul McShane goal, giving Jenny Kackett a defeat in his first game in charge. It was another game in which Jaap Stams side dominated possession. The second victory came at home to Nottingham Forest who had started to lose their way in the league. Both goals came from former Forest players, firstly McCleary poked home after the Forest keeper parried a John Swift effort back into danger. Chris Gunter scored the second as he and McCleary combined to give Gunter his first league goal for the Royals.
Towns October was shakey, with three defeats, one being heavy and two wins. The first game of October saw Chris Schindler bag his first goal in English football. A near post header from an Aaron Mooy corner, although a cut to the head nearly ruined AmChaff's eye candy, luckily it was but a scratch. Town then went on to suffer their first home defeat, thanks to a penalty from our friend Fernando Forestieri. Wednesday came with a game plan and managed to impliment it well, with town not really creating much to write home about. Things went from bad to worse as the Terriers suffered a 3-1 defeat away at Preston. Town struggled to deal with Prestons prowess at set pieces and went 3 goals behind after Tom Clarke and Alex Baptiste headed home Paul Gallagher's free kick, whilst he went from provider to scorer when his free kick evaded everyone and nestled in the back of the net. Nahki Wells pulled a goal back, but it was no more than a consolation. You would have been forgiven for thinking that it was just a blip as town managed to edge past Derby, Elias Kachunga turning home a Harry Bunn cross in the 93 minute to send Wagner running down the wing. But a trip to London the week after turned into a nightmare as Fulham ran out 5-0 winners. A brace from Chris Martin and goals from Tomas Kalas, Lucas Piazon and Kevin Mcdonald ensured that the Terriers came home with their tails firmly between their legs.
After 15 games, town had fallen to the depths of 3rd with Reading continuing their rise to 5th.
November
What do they say? Remember, remember? Well Reading have more reason to remember November than Town as they recorded 3 wins from 3 for that month. They started November with a 3-0 win away at Wigan. McCleary bagging a brace in the first 10 minutes, with Kermogrant sealing the deal with a penalty in the second half. 3 is a reoccuring theme for the Royals in November, I guess it goes with the rule of three. They put another three goals past Burton, although the scorers were more varied. Dominic Samuel opened the scoring, with Danny Williams doubling the advantage minutes later, John Brayford compounded Burtons misery when he had the ill fortune of scoring an own goal. The third fixture of the month saw Reading beat Bristol 2-1 (see rule of three) McCleary once again found himself on the scoresheet but also missed a penalty, with Beerens scoring the second. Gary O'neil pulled one back for Bristol but Reading held on.
Town would be forgiven for forgetting November completely. It didn't start off too badly, with a 1-1 draw at home to Birmingham, whilst it would be ideal to win, after the Fulham game it wasn't the worst. Kachunga found the net for the fifth time, linking yet again with Tommy Smith, but former Town loanee Lukas Jutkiewicz equalised when Town couldn't deal with a David Cotterill free kick. Town then returned to losing ways, this time away at Cardiff, former loanee Sean Morrison opened the scoring, whilst former premier league players Junior Hoilett and Rickie Lambert also scored, with Tommy Smith and Phil Billing gave Town hope, but it wasn't to be. November finished with Town returning to TV and Following the previous televised encounter with Sheffield Wednesday being disappointing, it was hoped that the game against Wigan would make amends for that. Wigan had other ideas and extended towns winless run to 4 games thanks to goals from Yanic Wildschut and Reece Brown. Town failed to deal with Wildschuts pace, whilst full back Brown was allowed to run the whole length of the pitch to turn in Wildschuts cross. Aaron Mooy cancelled out Wildschuts opener but couldn't convert dominance into goals.
After a disappointing November, Town were clinging onto 6th, whilst Reading sat nicely at 3rd, within touching distance of 2nd placed Brighton.
December
Christmas is upon us and the fixtures start to come thick and fast, whilst the temperatures and my bank balance begin to tumble just as fast. December was fine for Reading, however, one result marred the month. They suffered the same fate away at Craven Cottage. Chris Martin bagged another brace, whilst a Gunter own goal and strikes from Sone Aluko and Stefan Johansen gave Reading their heaviest defeat of the season so far, with Reading also seeing Danny Williams sent off at the start of the second half. They bounced back however thanks to a 2-1 win over Sheffield Wednesday. Roy Beerens scored twice, whilst Fletcher pulled one back late on. Reading then lost a second consecutive away game, this time away at Leeds, but finished the year off with two wins. They finished the year with two wins, a tight 3-2 victory away at Blackburn, George Evans snatching a win in the dying embers of the game after Samuel and Liam Moore had got themselves on the scoresheet. Danny Graham and Wes Brown replied for Rovers but it wasnt enough. The final game of the year saw them run out 3-1 winners at home to Norwich. The game was all square thanks to goals from Kermogrant and Nelson Oliveria, but once Jonny Howson had seen red, the Royals made their advantage count with McCleary and Callum Harriott sealed the three points
Huddersfields December was far better than the previous month as they managed to remain unbeaten over the christmas period. Although it could have taken a turn for the worse, with Wagner being tipped to be taking a job back in the Bundesliga, he had come close to leaving for Villa, but decided not to move to a fellow championship side, but the lure to move back to his homeland and be back with his family would have been understandable, however, he decided to see the season through at a minimum and thank god he did! It didn't start off great as Town drew 1-1 away at Blackburn. Kasey Palmer turned home a Chris Lowe cross, but Danny Graham converted a penalty after Hefele had bundled over Sam Gallagher. It was another game in which Town dominated the stats, but again couldn't make it count. Town finally returned to winning ways the next game, but it was almost gifted to them, in fact it probably was. Kachunga headed in a Tommy Smith cross early on, before Tammy Abraham poked home an equaliser. However the best was still to come. Town fans were in uproar as Bristol keeper Frankie Fielding handled the ball outside his box. The referee took a lenient approach to the incident and he was allowed to remain on the pitch. Not long after the keeper recieved a back pass and found his touch desserting him, allowing Nahki Wells to nip in and turn the ball home. Wells continued his scoring, this time away at Burton, managing to score a winner late as Town failed to get a real foothold in the game. Then came the best performance Town had turned out in a while, away at Norwich, even better considering the fact that it was on TV, with some town fans being worried before the start with Stankovic returning to the starting line up for the first time since the Wigan game. However, Kachunga and his pal Smith linked up to give Town and early lead, it didnt last long, a whole 66 seconds, as Jonny Howson headed home an equaliser. Wells had a couple of gilt edge chances to restore the goal advantage, but it was Kachunga again who found the back of the net after a good one two with Smith and town were able to hold on despite the pressure for a valuable three points. Nottingham Forest were in a giving mood on boxing day as they gifted Town three points and it could be argued scored all three goals. Hildeberto Pereira opened the scoring dinking over Joel Coleman, before Palmer equalised although the ball hit the keeper before it crossed the line. The second goal was an own goal as Michael Mancienne turned the ball into his own goal, before contriving to get himself sent off late in the proceedings. The final game of 2016 saw Town meet Blackburn yet again. It was another game in which Town dominated the possession stats, however it was Danny Graham who scored the games first goal as he headed in at the near post late on. Nahki Wells had other ideas as he scored a freekick deep into added time to give Town a point, where they probably felt they deserved 3, but it was the lack of ruthfulness that cost them dearly.
Come the end of the year, both Town and Reading were neck and neck, both sitting on 43 points, with Reading having a game in hand and a better goal difference.
January
The transfer window reopened and Reading took full advantage of it, signing Tiago Ilori from Liverpool, whilst also welcoming Adrian Poppa on three year deals. Also joining the club was Lewis Grabban, Jordan Mutch and Reece Oxford all on loan deals. Town also conducted a bit of business during the winter window, with Colin Quaner joining from Union Berlin, whilst Izzy Brown joined on loan from Chelsea after impressing whilst on loan at Rotherham. Elsewhere Ivan Paurevic returned to previous club UFA in Russia, whilst some of the younger players were shipped out on loan.
On the footballing side, Reading had another standard month, losing two league games, 3-2 away at Derby, despite going a goal ahead, they also saw Jordan Obita see red deep into injury time. The other defeat came at home to Ian Holloways QPR side and it was another case of not being able to convert dominance into goals. January also saw the side win 4 games to keep the promotion push alive. They came from 2 goals behind in the first game of 2017, two late Yann Kermogrant goals saw them edge past Bristol City. They also edged past Fulham thanks to a Beerens goal, but the hero was Ali Al-Habsi who managed to save a Chris Martin penalty to give the side three points. They managed to finish the month with two wins, a 2-1 win over Cardiff and a 1-0 win away at Birmingham. January also saw the Royals manager Jaap Stam return to former club Manchester United in the FA Cup. But the dream of knocking the Red Devils out of the cup was short lived as the Premier league side cruised past them 4-0.
Huddersfields January saw league games come at a premium with only three taking place thanks to FA Cup ties. The new year game saw Town travel to Wigan looking to make up for the defeat back in November. Town managed to scrape past the Latics thanks to an 80th minute winner from Nahki Wells, in a game that lacked much to note in terms of attempts on goal. Elsewhere in the league, Town lost away at Sheffield Wednesday thanks to a wonder strike from Ross Wallace and a goal from Forestieri. Town also saw Jack Payne given a straight red card midway through the second half. The final league game of the month saw Town run out 2-0 winners over a disappointing Ipswich side. Goals from Izzy Brown and Chris Schindler being enough to see off Mick McCarthy's men. Unlike the last couple of seasons, Town managed to get a bit of a run going in the FA Cup. Firstly Town eased their way past Port Vale with goals coming from Jack Payne x2, Kasey Palmer and Harry Bunn. In the 4th round, town also scored 4 goals, this time away at Rochdale. Quaner scored on his debut, whilst Brown converted a penalty. There was also a brace from makeshift striker Michael Hefele who showed fans a different side to his game when he poked home after a well worked move, before heading past the keeper for his second.
Come the end of the month, Reading were 3 points off Newcastle, but the top two had two games in hand. Town were sat nicely in 5th also with two games in hand over Reading.
February
This was the month were Reading appeared to start losing their way a little bit, winning just once in the month, that coming in a 5 goal thriller at home to Brentford. The Bees were 2-1 up with 15 minutes to play, but Reading managed to produce a comeback to take the three points. They drew away at Ipswich 2-2 and also drew a blank at home to Barnsley. The final game of the month saw them travel to Brighton, where they lost 3-0 as the home side put the Reading defence to the sword. February also saw Reading travel up to Yorkshire to face Huddersfield. Yet again there was only one goal in it, this time it was in Huddersfields favour as a late Phil Billing goal sealed the points for the home side, who also saw Rajiv Van La Parra miss a penalty after much debate over who should take it.
Town had a very busy February, but managed get through it unbeaten. The month started in emphatic fashion as Town managed to put in what could have been the best performance of the season in front of the cameras against Brighton. Tommy Smith got Town off to a flyer in the first ten minutes, but an under hit back past allowed Tomer Hemed to round Dannt Ward to restore parity. However, it just clicked for town there after as Nahki Wells and Elias Kachunga both scored to make it 3-1 at half time, the second half saw no more goals, but Brighton did see Lewis Dunk sent off for two bookable offences. Things didn't get any easier for Town as on the Sunday they welcomed Leeds to the JSS, again in front of the cameras. The game will be remembered more for the none footballing antics that occured at the end of the game, but on the pitch, Izzy Brown put the home side ahead, just minutes after replacing Kasey Palmer who had gone off with a hamstring injury that would eventually rule him out for the rest of the season. Chris Wood equalised for Leeds as normal, but the best was still to come, as Michael Hefele turned home a scuffed Aaron Mooy shot to send the JJS into raptures. It also sent David Wagner running down the touchline, before returning to an unhappy Garry Monk, who had a thing or two to say. At full time, Hefele saw himself in bother as he had a slip of the tongue live on air. Elsewher in the month, Town managed to record wins away at QPR and Rotherham respectively, whilst they also drew away at Barnsley. Town also welcomed Manchester City to the JSS, and upon seeing the starting line up selected by both sides, many feared the worst, however, the side managed to earn a very respectable draw.
Town finished the month in 3rd place, a little way off Brighton in second, whilst Reading had dropped down to 5th but were still very much in the picture.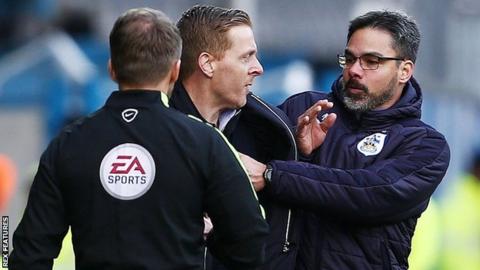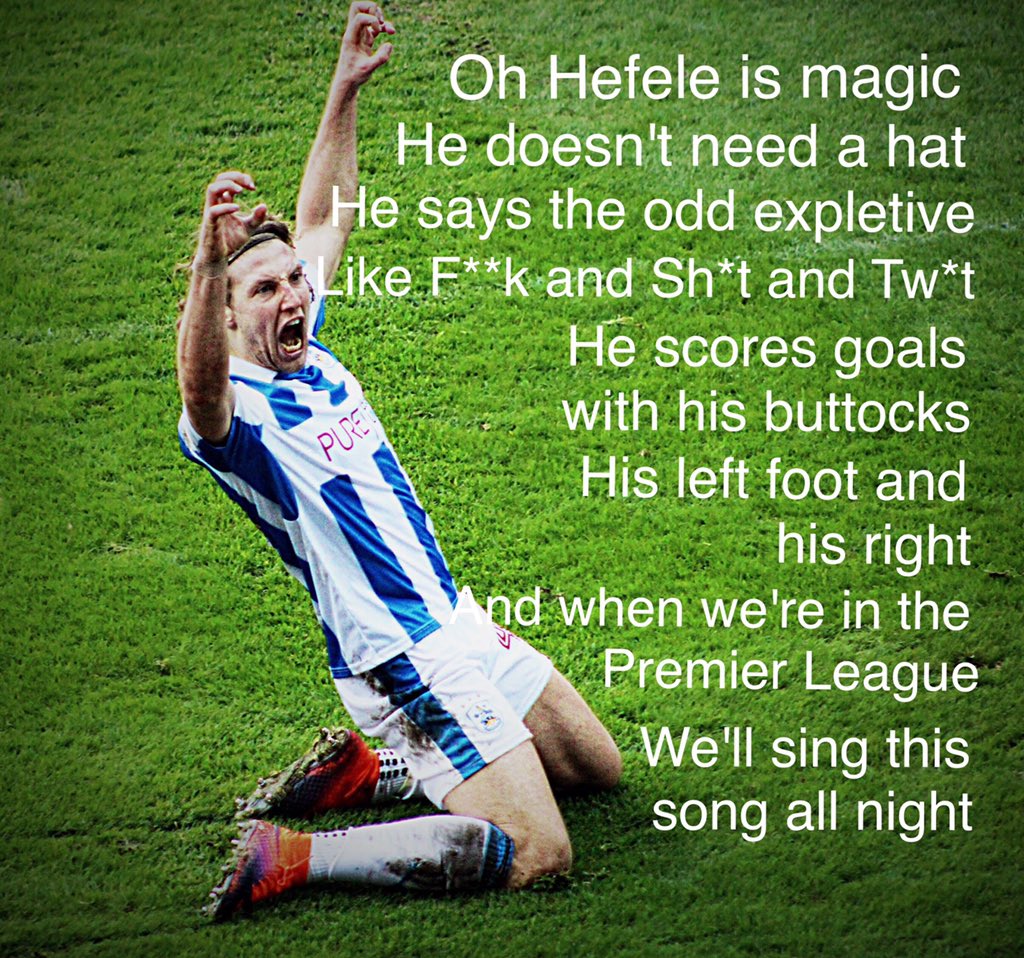 March
March was a lot better for Reading as they managed to start regain momentum in their push for promotion. It began at home to Wolves as they managed to sneak past the ten man side thanks to goals from Kermogrant and McShane. They then managed to earn a 0-0 draw at home to Newcastle, whilst Reading saw more of the ball, Newcastle saw more attempts on goal. The Royals completed the set as they crashed back down thanks to a 3-0 defeat away at Preston. They finished the month on a high as they travelled to Sheffield and returned South with the 3 points thanks to goals from Kermogrant and Poppa.
Town began March with a trip to the Etihad Stadium in a replay of the fifth round tie. Huddersfield fielded a much changed side once again and took a shock early lead thanks to a Harry Bunn goal. But that just fired the Citizens into action as Leroy Sane, Sergio Aguero, Pablo Zableta and Kelechi Iheanacho ran riot against Towns defence. Back in league action, Town then welcomed Newcastle to Yorkshire. Newcastle came with a game plan much like Sheffield Wednesday as they sat back and hit on the break. Once again it worked as Daryl Murphy, Dwight Gayle and Matt Ritchie found the back of the net, with a Mooy penalty proving to be Towns only answer on a worn pitch. The pitch didnt get much time to heal as it was back in action not long after as Villa came into town. A second half Tommy Smith strike proved to be decisive as Town kept the pressure on the top 2. They then travelled to long time bogey sides Brentford and Bristol City. A lucky Van La Parra strike sealed the points at Griffin Park, before the side capitulated at Ashton Gate, falling 4-0 to City in a game marred by a serious neck injury to Jonny Hogg, with Hogg being diagnosed as having suffered a serious fracture.
By the end of March, Town were still sat 3rd, 6 points behind Brighton, still with a game in hand. Reading still sat 5th in the table having consoledated their place in the playoffs.
April
April was the month Reading needed in most parts. It began positively with an April fools day win against Leeds United thanks to a kermogrant goal. They then moved on to play Blackburn and recorded a comfortable 3-1 win. A brace from Kermogrant and a strike from McCleary sent the Royals above Huddersfield in the league. After two good solid games, everything fell apart when they travelled to Norwich. Reading were 5-0 down midway through the first half, with goals from Oliveira, Hoolahan, Russell Martin plus a brace from Alex Pritchard ensured the Canaries had run riot. Kermogrant replied for the Royals but any chance of an extremely unlikely comeback were shot down when Cameron Jerome and Wes Hoolahan made it 7-1. Some teamss would have fallen apart after that result, but Reading bounced back superbly away at Aston Villa. Joseph Mendes bagged a brace, whilst Lewis Grabban made it 3, with James Chester scoring Villas only goal. They then travelled up to Yorkshire where Rotherham awaited, the Berkshire side ran out 2-1 winners. Reading finished the month with a victory and defeat, the defeat came at the hands of resurgent Nottingham Forest who were fighting for their place in the Championship, the result finishing 3-2, the victory came against Wigan, an early Kermogrant header sealing the tie.
Huddersfields April was a bit disappointing, starting at the JSS where Burton fooled Town late on to take all three points, with Dean Whitehead getting sent off in the process. Norwich were next up at the JSS, and Town managed to bounce back with a bit of style thanks to a 3-0 win. Three goals in 7 second half minutes provided the killer blow with Wells, Mooy and Kachunga all getting themselves on the scoresheet, but more impressive was the return of Jonny Hogg after it turned out that the initial injury diagnosis was less severe than first thought. Despite that, the side would go on to record defeats against two relegation strugglers in the form of Nottingham Forest and Birmingham, the Birmingham game proved contraversial in that Wagner decided to make 10 changes to the side. A dull 1-1 draw away at Derby also occured in April, it was a game where Town tried to change things up tactically to try and sure things up at the back. A late Colin Quaner goal saw town sneak past Preston 3-2 following a missed penalty from Aaron Mooy, whilst a first half Izzy Brown goal against Wolves guarenteed Towns spot in the Play offs.
Come the end of April, Town had fallen away from the promotion push and sat 5th, whilst Reading had moved up to 3rd but the play off places had been secured, it was just a question of who would play who.
May
May saw one league game left to play, but there was much much more at stake. Reading travelled to Burton in what was a dead rubber of a fixture. Reading managed to three goals ahead thanks to goals from Obita, Mendes and Kermogrant but Burton managed to pull two quick goals back to make it nervy for the Reading but Lewis Grabban scored with five minutes to spare to ease Reading over the line. That win ensured that Reading would play Fulham in the play off semi finals, with the first leg taking place at Craven Cottage. Jordan Obita gave Reading the lead in the second half, much against the run of play, before Tom Cairney equalised from close range after Al-Habsi parried Scott Malones effort. Reading captain Paul McShane saw a straight red card for a high challenge on Kevin McDonald. The second leg was another tight affair, with a Kermogrant penalty being required to seal the tie. Fulham bombarded the Reading goal but an inspired Al-Habsi provided to be too big an obstacle for Fulham to breach.
Towns final game of the league season saw them welcome former play off winning manager Neil Warnock to the JSS. Wagner made another plethora of changes, mainly due to the scrutiny that the side had come under following the Birmingham game. The changes didnt work as Town failed to turn out for a game once again. Kenneth Zahore gave the Bluebirds the lead before an underhit back pass from Aaron Mooy left Danny Ward in no mans land, the keeper ultimately handled the ball and saw red, leaving town to finish the game with 10 men. A brace from Joe Bennett ensured it was a miserable end to the season for the Terriers ahead of the Play off ties against Sheffield Wednesday. The first leg was held at the JSS and the atmosphere was vibrant but the game itself was tense, with chances coming few and far between as Wednesday sat back waiting to hit on the break. Izzy Brown and Nahki Wells had the best chances, but Brown was denied by the cross bar, whilst Kieran Westwood somehow managed to divert Wells' effort over the bar. The second leg was much of the same, with Town welcoming Ward back between the sticks, he was called into action in the first half when Adam Reach managed to get an effort off on goal through a crowded area, whilst at the other end Izzy Brown spurred a great chance at the near post. The second half saw Wednesday try to attack a little more and Steven Fletcher gave them the lead as he met a Barry Bannan cross to head past Ward. Some more Wednesday dominance, but Town managed to get their foot back in the game. The introduction of Quaner added more imputuous to Towns attacking play and within minutes of coming on, he provided a composed pass across the face of goal that Nahki Wells/ Tom Lees managed to turn into the net. Town went on to look the most likely to win the game with Pudil looking shakey when attacked by Quaner, but the game was to go to extra time. Towns extra fitness was likely to come to the fore, but it was Wednesday who had the better chances in the first half of extra time as Rhodes and Forestieri were both denied by Ward. The second half of injury time saw Town come the closest as Wells hit the side netting, but the tie was destined to go to penalties. Chris Lowe was first up and coolly fired home, whilst Sam Hutchinson missed Wednesdays first. Hefele and Kieran Lee both scored their penalties, as did Mooy, Wells, Hunt and Bannan. Making it 3-2 with one left each. Jack Payne stepped up with a chance to seal it, but Westwood guessed the right way and parried it away, leaving Fernando Forestieri to step up to take it to sudden death. He tamely took his penalty and Ward was able to make the save, leaving the Town players and fans able to celebrate, although someone needed to tell Ward it was over, before he managed to evade all players on his forray forward towards the jubilant Town fans.
The game on Monday provides both clubs with the perfect chance to go and mingle and the table of the elite English clubs and the game should be a highly tactical affair with neither side wanting to stray far from their footballing principles, but also not wanting to give the opposition that extra yard. Both teams like to keep the ball and move it around the back four and build their way forward gradually, looking to create a breakthrough chance rather than force it.
The players to look out for from a Reading perspective would be;
Yann Kermogrant- The vetran striker has been around a while and has already decided that it coming to the time to hang up his boots at the end of the 2017-18 season. One last swansong or at least the chance to bow out upon getting his side to the promised land is sure to be high on the agenda. A strong striker who finished as Readings top scorer knows where to be at the right time, with a mean free kick to boot is going to require strong marshalling from the Town centre halves.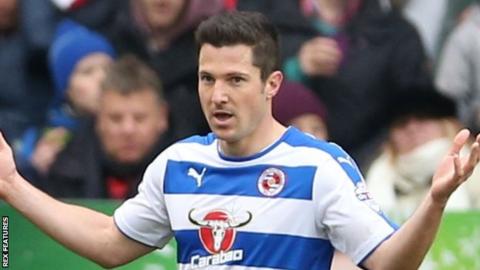 Danny Williams- The American midfielder operates in a fairly similar role to Hogg, but with more goals, but maybe less of an engine. He will be tasked with keeping an eye on Izzy Brown and Aaron Mooy but will also pop up in the area if given half a chance.
Jordan Obita- Much was expected of him when he burst on the scene, but for one reason or another he hasnt quite achieved that just yet, but there is still plenty of time. A player capable of playing both and fullback and on the wing will cause trouble for defenders with his pace and will need to be pressed back by Smith and Lowe.
Gareth McCleary- A winger who missed the back end of the season through injury, but has made a return over the last few games despite needing surgery over the summer. He has been operating as a sub and has been playing due to painkillers. If he comes on the pitch he will also need to be watched as he has an eye for goal, but also offering Reading a more direct option to attack defences.
From a Town perspective a lot will ride on how key players fair under the pressure that comes with a game like this.
Izzy Brown- A player that Town missed drastically when he was out injured. He has the ability to find pockets of space whilst also being able to turn and drive into areas to create chances and draw fouls. A big pitch at Wembley could prove to be the exact thing his game is suited for.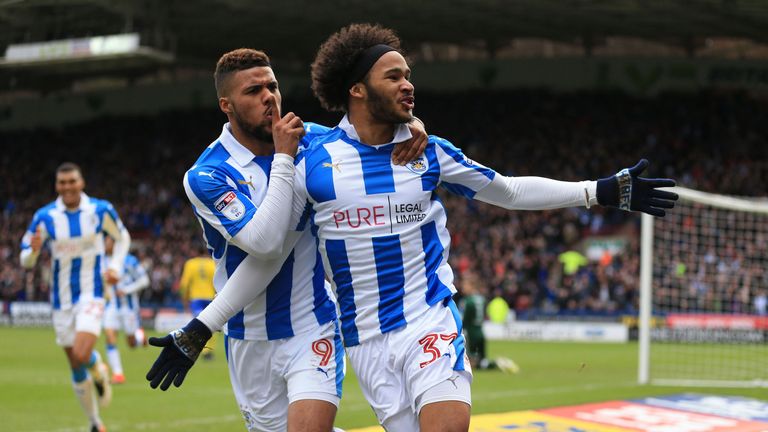 Aaron Mooy- Towns player of the season is able to dictate the game from the deeper midfield role, whilst also being able to get further forward thanks to the covering Hogg. A player that is able to see and pick a pass will be vital in create the key chances that are required in a final.
Nahki Wells- A striker that comes in for some grief from Town fans for the chances he fails to convert, although over the season he has been working harder off the ball than he had normally and in the playoffs he put himself around a lot more, create a few chances out of nothing. A playoff final is the sort of occasion that a player like Wells lives for and it wouldn't be surprising if he created or produced something worthy of the final.
Elias Kachunga- A striker converted to a wide man and also Towns top scorer of the season. He has formed a perfect relationship down the right with Tommy Smith and the two will be looking to show that on the big stage. Kachunga is a hard working player that has endeared himself to fans with his 100% work rate and his ability to connect with crosses when it matters.
Both sides have been given over 38,000 tickets for the game and at last count at the time of writing both sides had sold nearly 28,000, with the tickets set to go on general sale. Tickets are priced at anywhere between £36 and £92 per ticket with concessions coming in a bit cheaper. If you are so inclined, you can purchase a hospitality ticket starting at £130 and going onwards and upwards with the extras you add to you final experience.
Fans from other less successful clubs calling it tin pot support,  but it looks set to be a highly vibrant atmosphere with both sides taking around 35,000 with them, it probably wont be a sell out, but it will be an experience, plus with a possible extra time and penalties if required.
Town fans are stationed at the same side that they had in the final against Sheffield United, with the club putting coach travel on for fans at £35 a person. If you are driving down to Wembley it is probably advisable that you park up on the outter area of London and travel via train onwards, it might be a bit cheaper too. Wealdstone
Raiders
Rovers have put on parking amongst other things for fans, but spaces were going quick and I would guess that they have gone by now.
In preparation for the game, Wagners Huddersfield, including Kasey Palmer, have got away from the rain and the prying eyes for a trip to Portugual, along with their families, ahead of what will be an intense week in build up to the big game.
Early team news from both camps suggests that both will be fielding the same teams that won their respective semi final ties, with Reading captain Paul McShane missing following the red card he picked up in the first leg against Fulham. As for Town, everyone finished the game against Wednesday tired, but uninjured and after a weekend refreshing it would seem that there will be a full squad to pick from.
Predicted Town team
It is unlikely that Wagner will change anyone from that line, but it could be the sums bench that sees the changes in anticipation to most outcomes.
Bench (or what I would pick anyway)- Coleman, Craine, Hudson, Whitehead, Quaner, Scannell, Payne
Town will be wearing the Black and Yellow away shirt with Reading wearing their Blue and White home kit. They get honour due to finishing higher in the table. They may also have the home dressing room, but that may still come down to a coin toss.
That was the team that Stam put out last time out, in a formation I would think that those players suit. It is concievable that they will alter the formation to match us, with Mendes coming in for Evans or Van Den Berg and Grabban moving out wide and Swift moving higher up the pitch. Another possible change could be Liam Kelly coming into the side, he played against Town at the JSS, he was the one that looked like a 10 year old had snuck out with the team. I wouldn't expect McCleary to start, but he will come off the bench to influence the game should he be needed.
The Reading squad contains a lot of experienced players, with a fair few holding multiple international caps. In keeper Ali Al Habsi they have a keeper that on his day can produce stunning saves and keep them in fixtures, but he is also just as likely to have a big blunder in him as has been seen during this season.
At full back they have Welshman Chris Gunter, who is known for getting forward well, however, in the fixture at the JSS, he appeared incapable of doing the one job he is actually paid to do, defend. If Rajiv is on his game, it could be a tough 90 minutes for the full back.
On the other side Tyler Blackett came through the Manchester United academy and can play at centre back as well as out left. If he does start on the left he is a little more defensively minded and if Smith and Kachunga link up well he could find himself isolated.
In the centre of defence Liam Moore had multiple spells out on loan and is a more than capable defender that at one point I would have liked at Town. Tiago Ilori came from Liverpool but has struggled with injuries this season, something that has plagued him constantly over the last few years. He joined Liverpool from Sporting and a lot was hoped of him, but he struggled to live up to expectations.
Joining key man Williams in midfield will most probably be John Swift. The former Chelsea youth teamer made an impression whilst on loan to Brentford, prompting Reading to add him to their midfield. A more dynamic player, who tries to get into the box and has scored on a few occasions this season. George Evans joined Reading from Manchester City and is able to play in the middle of midfield or at the centre of defence.
Further up the pitch is Lewis Grabban, a pacey striker that joined the club on loan in January from Bournemouth. He also played for the likes of Norwich and Crystal Palace over his career and is in his second stint at Bournemouth, but it is possible that his time could be coming to an end at the Cherries.
What have the managers had to say about the semi finals and on reaching the final?
Jaap Stam:
"It was a tough game. We knew it would be from the start.
"In the first half we played well in how we got in behind and threatened, we tried to manage the space well and in the first half, we played very well and we were aggressive in how we pressed them.
"We spoke at half-time about how we could make it more difficult for them. We got a great start after the break, but then it was about us keeping on pressing them.
"We fought with everything we had. We've done that so many times this season and if you hold on like that, you will force mistakes out of people.
On reaching a Wembley final: "We worked so hard to get there. It's not all about football, sometimes it's all about results.
"We're proud in the achievement that we've done. It's great to be there to play in the final, I've been there in my playing career.
"There's a lot at stake and a great prize potentially for the club. It'll be tough against either Huddersfield or Sheffield Wednesday.
"It could be a game of great nerves, a great occasion, but we'll have to manage it properly."
On Ali Al Habsi's performance: "We know he's a great keeper, it's not just about today, he's been superb all season.
"It was a terrific performance. That's why he's paid to be in goal and be our last line of defence."
David Wagner:
"Everyone knows most pundits said we would be in relegation trouble or we'd get relegated and now we're one step away from the Premier League. We are the small dog, the terrier, but we have belief.
"Now we are in the final the fairytale goes on and we want to write the last chapter at Wembley."
Its up early, to allow a bit of a build up to the fixture. Additional comments from players and mangers will get added, possibly, along with team news closer to the day.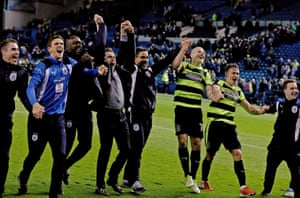 Could it be? I hope so.